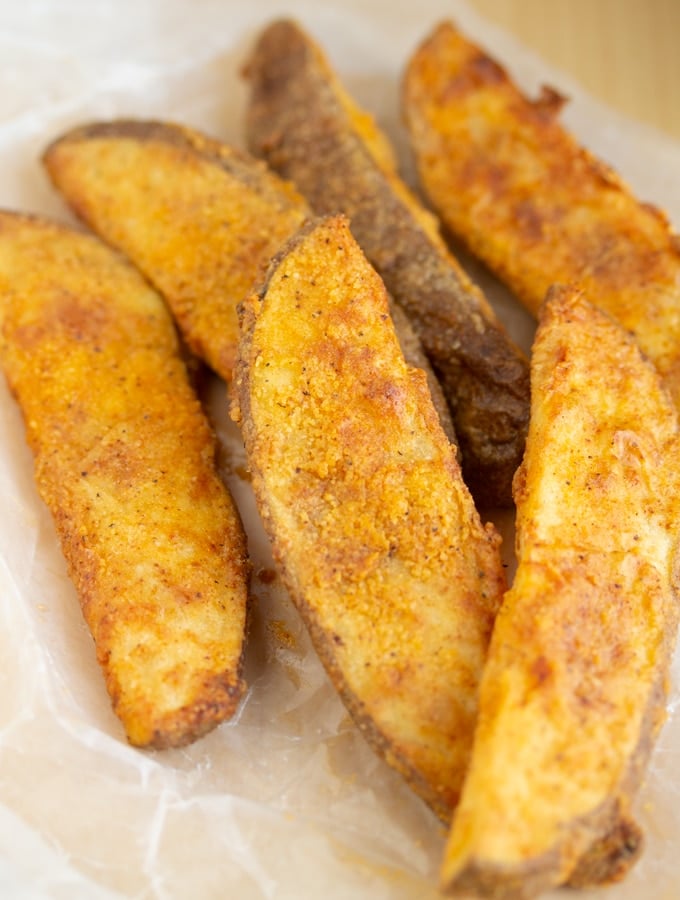 THE BEST POTATO WEDGE SIDE DISH
What I love about using the air fryer is that it's a healthier alternative to get your favorite crispy foods with little to no oil.
These air fryer potato wedges cook up crispy, flavorful and are such an amazing homemade alternative to takeout fries. We love adding a ton of seasoning making them irresistible and highly addictive.
Making homemade air fryer potato wedges means you can skip deep-frying them in canola oil and use a touch of heart-healthy avocado oil (or olive oil) instead.
And, another awesome thing about making potato wedges in an air fryer is that they cook up so much quicker than an oven. But for those of you that do not have an air fryer, I've also included instructions to make them in the oven.
HOW TO MAKE AIR FRYER POTATO WEDGES:
Start by cutting each potato lengthwise into quarter inch pieces.


In a large bowl, combine oil with salt, black pepper, oregano, smoked paprika, onion powder, garlic powder and chili powder. Add potatoes and toss to coat, making sure each potato is covered.


Place 8-9 wedges in the air fryer basket, and cook at 400°F for about 8 minutes. Turn each potato wedge over and cook for another 8-12 minutes, or until desired crispiness.


Transfer to a bowl, and repeat with the remaining wedges.


Sprinkle with fresh parsley along with your favorite paleo / whole30 dips.